Summary:
A very big thank you to the wonderful Kris Mkystich for my new banner! Isn´t it sexy!!! Check her out in the December Drabble Wars!! http://www.fanfiction.net/s/8769101/3/School-Of-Mischief
Dr. Edward Anthony Masen Cullen is a world renowned pediatric neurologist, he´s also a very sought after Dominant living in the Seattle area. What happens when the thrill of the playroom is no longer enough? What happens when he wants more than just a Friday through Sunday arrangement... Bella Swan a very young and very successful Corporate Attorney, who happens to be secretly crushing on her best friends older brother. It all starts with a dream, but after a very short, but failed marriage, Bella decides it´s time to give in to her submissive nature. With the help of her best friend and a blind date, can Bella finally find all the things her live is missing. ExB Rated for BDSM themes and lemony goodness.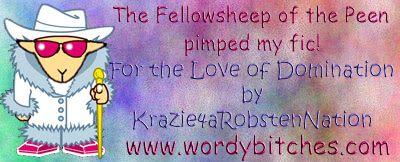 Winner of a Tomato Soup Award!
Nomimated for two Wordsmith Awards!
Voted Must Read Monday by Twi Girls Next Door

Winner of two Wordsmith Awards!
Categories:
Canon Pairings
,
Twilight
Characters:
Bella/Edward
Genre:
Drama
,
Erotica
,
Romance
Language:
None
TWCS Romance Contest:
None
Challenges:
Dominating Bella
Series:
Domward's Dungeon
,
Bdsm stories only
,
Twilight - Read
,
Drive's Stories to read that are Completed and Not completed
,
Can't wait for an update
,
My Favorite Stories
,
Misstoria's Stories to Read
,
J's Read and Loved Stories
,
Fav BDSM Fics
Chapters:
29
Table of Contents
Completed:
No
Word count:
299772
Read Count:
272503